Now includes an updated programme and directions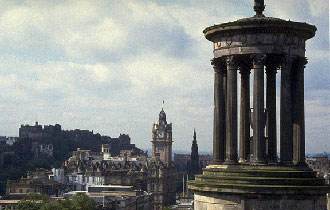 The First International Conference on the Linguistics of Contemporary English (incorporating the Second International Conference on the Phonology of English) will be held from 23 - 26 June 2005, at the University of Edinburgh.
programme || background || invited speakers || booking || directions and travel || organisers and contacts
Supported by the British Academy and by the the Linguistics Association of Great Britain.
---
Programme
A (hopefully final) version of the programme is now available (in pdf form here, and in Word form here), with a list of chairs for sessions. We do not expect to make any changes to this, but it may be that a few small changes become necessary.
---
Background
The attention devoted to the linguistic phenomenon (or phenomena) known as English has resulted in a broad body of work in diverse research traditions, illustrating both the individual characteristics of the many Englishes, and the contributions that an understanding of these linguistic systems can make to our general knowledge of the human language faculty.
Our aims are (i) to encourage the cross-fertilisation of ideas between different frameworks and research traditions, all of which address the linguistics of English, and, furthermore, (ii) to promote discussion among researchers interested in linguistic theories (phonologists, syntacticians, variationists etc.) regarding what we mean when we use the word 'English' to describe the linguistic phenomena which we work to explain.
This conference aims, therefore, to provide a platform for work which deals with any aspect of the structure of contemporary varieties of English, in terms of their phonology, morphology, syntax, semantics etc., in any way which aims to be explanatory. Work on any variety (or number of varieties) is welcome, including variationist work which engages with issues of linguistic structure. We do not envisage this including work which is purely historical, but work which brings in diachrony in order to explain the structure of Present-Day English is certainly welcome.
An International Conference on the Phonology of English was held in Toulouse in 2002 along these lines. We aim for the current conference to build on the success of that event, and to broaden out its scope to include discussion of all aspects of English.
There are plans to publish a peer-reviewed selection of papers from the conference. For information about who to contact with queries about the event, please click here.
---
Invited speakers
The following have accepted invitations to speak at the conference


Bas Aarts


Luigi Burzio


Lisa Green


Peter Trudgill
---
Booking
It is no longer possible to book accommodation through this website. If you would still like to book a room at the place where other participants are staying, please contact Pollock Halls directly (by calling +44 (0) 131 6512007 or by emailing bed.breakfast@ed.ac.uk).
Registration costs
It is still possible to book for the conference itself, and for the Conference Dinner and Ceilidh; information about how make a booking is on a separate page - click here to access it. [link removed]
The full conference fee, which includes midday meals, all conference materials and refreshments during morning and afternoon breaks, is GBP135.00.
The concessionary rate for students is GBP65.00.
There are also options to pay a daily rate (although individual days cost more when added together than it costs to book for the whole package): 23rd: GBP25, 24th: GBP45, 25th: GBP45, 26th: GBP30.
On the evening of Saturday 25th, there will be a conference dinner, followed by a Ceilidh dance; this will cost GBP30 (GBP15 for those eligible for the reduced rate), and with the option of paying GBP5 to attend the Ceilidh only.
---
Directions and travel
Information about where the conference will be held and other directions and information about Edinburgh can be found on a separate page - click here to access it.
---



Contact addresses


Do feel free to get in touch with any queries that you might have about the conference.
---
Organising committee
The conference is organised by the following


Philip Carr (CELA, Montpellier III/ERSS, Toulouse II)


Heinz Giegerich (Edinburgh)


Nikolas Gisborne (Edinburgh)


Patrick Honeybone (Edinburgh)


April McMahon (Edinburgh)


Graeme Trousdale (Edinburgh)
---
Advisory board
The following have accepted invitations to act as advisors and abstract-readers for the conference


Bas Aarts (UCL)


Sang-Cheol Ahn (Kyung Hee)


Laurie Bauer (Wellington)


Luigi Burzio (Johns Hopkins)


Ron Butters (Duke)


Noel Burton-Roberts (Newcastle upon Tyne)


Jack Chambers (Toronto)


Jenny Cheshire (Queen Mary, London)


Jacques Durand (Toulouse le Mirail)


Paul Foulkes (York)


Lisa Green (Texas, Austin)


Liliane Haegeman (Lille III)


Alison Henry (Ulster)


Caroline Heycock (Edinburgh)


Manfred Krug (Freiburg)


Rochelle Lieber (New Hampshire)


Pingali Sailaja (Hyderabad)


Ingo Plag (Siegen)


Dennis Preston (Michigan State)


Edgar Schneider (Regensburg)


John Taylor (Otago)


Katie Wales (Leeds)
---
Last modified by Patrick Honeybone, June 2005