&nbsp

Antonella Sorace
Professor of Developmental Linguistics
Linguistics and English Language
The University of Edinburgh
Dugald Stewart Building
3 Charles Street
Edinburgh EH8 9AD

Tel: +44 131 650 3493/3961
Fax: +44 131 650 6883
antonella AT ling DOT ed DOT ac DOT uk
---
BILINGUALISM MATTERS,

an advice and information service for the community based on current research.
Details can be found at Bilingualism Matters website.
If you would like to organize an event or request a talk, please email: info AT bilingualism-matters DOT org DOT uk
---
The "bilingual paradox"
Anyone who has seen a small child switching from one language to another is likely to be amazed-and perhaps envious-at how effortlessly they are able to do this. Stories of immigrant children interpreting for their parents are commonplace, and in some parts of the world it is quite normal for children to be exposed to two or even more languages right from birth. Yet in modern industrial societies, growing up with more than one language is often regarded as 'special'. Bilingualism is still surrounded by false beliefs and misunderstandings, even among the otherwise educated and scientifically minded. Many people are ready to believe that handling two languages at the same time is too much of a burden for the infant's brain, or that the languages compete for resources in the brain at the expense of general cognitive development. The contrast between and these false beliefs and the amazement often expressed by people at how easily children pick up two or more languages can be seen as a 'bilingual paradox'.
I am involved in raising the awareness of bilingual families, educators, and policy-makers by disseminating the results of research on bilingual development and cognition.
This is some of my recent work for a general audience:
A leaflet written with Bob Ladd and commissioned by the Linguistic Society of America: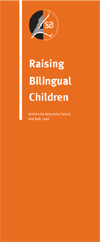 An article published in Children In Scotland magazine. For further information, and to subscribe to this title, please visit www.childreninscotland.org.uk.
An article in S. Della Sala (ed.) Tall Tales about the Mind and Brain: Separating Fact and Fiction. Oxford: Oxford University Press.
My professorial inaugural lecture entitled "The Bilingual Mind"
An interview (in Gaelic!) that appeared in The Scotsman.
A recent BBC interview
Recent media appearances in the UK and Europe.
---
Two of my earliest events (NB. This list is not updated. For an up-to-date list of recent and forthcoming talks see the Bilingualism Matters website).
A seminar - organised by the RSA and the University of Edinburgh - entitled Children with Two Tongues: Exploding the Myths about Bilingualism, on Wednesday 21 February 2007, 6.00pm-8.00pm, Talbot Rice Gallery, Old College, Edinburgh. Details can be found here. The file of my presentation can be downloaded here.
---
A talk entitled Facts and Fallacies about Bilingualism on 7 September 2007 at the conference Tall Tales about the Brain and Mind organised by the Royal Society of Edinburgh.
---