The Ugly Groove Movement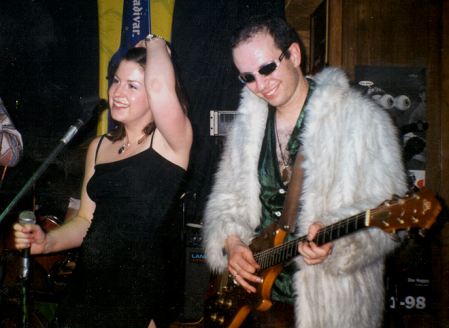 Me looking particularly ugly in my incarnation as Dr. Double Wah on stage next to the wonderful Ms. Lips at the Cas Rock, Edinburgh in the early years of the Uglies.
After nearly five years and upwards of 40 musicians (or something like that) The Ugly Groove Movement are no longer performing live. If you didn't get a chance to see our unique brand of funk soul-groove craziness, you missed out! However, if you want to join the movement, you can still track down our first album, "Ultra Grooved". Better yet, you will soon be able to buy and listen to songs from the brand new CD "Keep it Ugly" on-line.
For the moment, you can hear the rough mix of the last song we ever recorded (and never performed live) in MP3 format here (128kVBR):
Same Song

(written and performed by The Ugly Groove Movement 1999, recorded at Chamber Studios, produced by Grant MacNamara.)

There are a huge number of bands that members of the Uglies have gone on to form or join. Here are a few of the names to look out for: The Funk Junkies, Organogel, Heather, Khudu, The International, Splang, Gekko, Irbis, Babacool and many more whose names elude me just now.

Oh yeah... and as an excuse to show off our lovely Ugly Fashion Wear (TM), here's a picture of our equally lovely cover girl/official drummer groupie/biggest fan!