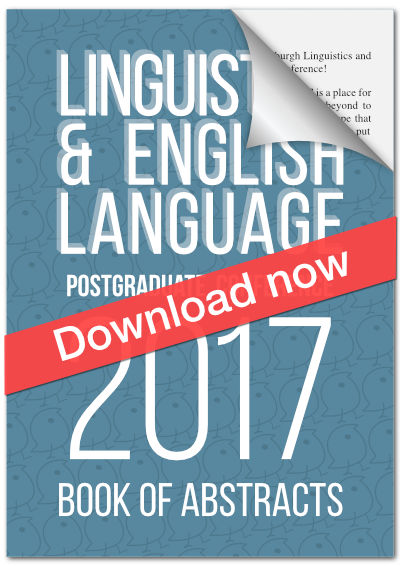 The Linguistics and English Language Postgraduate Conference is an annual event hosted by the School of Philosophy, Psychology and Language Sciences at the University of Edinburgh. The conference offers postgraduate students the opportunity to present ongoing work and discuss their research with peers and faculty. This year's conference will be held on 29th–31st May 2017.
Running for over 20 years, the conference offers a great opportunity to refine thoughts, share concerns, and receive constructive criticism in a supportive and convivial environment. Additionally, it's a great way to gain experience in conference presentation and find out about some of the exciting things going on in the field. Attendance at the conference is free.
Submissions are invited for oral presentations and posters. Any papers relevant to Linguistics and English Language are welcome. The submission deadline has been extended to 10th April 2017.
To stay up-to-date, follow us on Twitter and Facebook.
Plenary speakers
For the opening plenary lecture, Prof. John Joseph will give a talk titled "'Language contains society': Hong Kong's Umbrella Movement interpreted through Benveniste's Last Lectures (and vice-versa)". Dr Vicky Chondrogianni will close the the conference with her plenary lecture on "The acquisition of case-marking and word order in heritage speakers: Greek heritage children in New York City". Please see the programme for specific details.
Workshops
There will be a series of workshops at the start of the conference, primarily catering to masters students (although all are welcome to attend). Hannah Rohde will give a workshop on research methodologies and Rob Truswell will give a workshop on the dissertation process. We will also have a workshop from Iain Davidson from the Institute for Academic Development on conference presentation techniques. Please see the programme for more details.
Social events
We have a number of social activities planned for the duration of the conference. On Monday 29th there will be a conference dinner. On Tuesday 30th there will be a picnic in the meadows, followed by a language tour of Edinburgh. We'll end the conference on Wednesday with a wine reception and pub night.
Registration
Registration for the conference and social events is free of charge, but must be completed by 28th April. All presenters must register to confirm their intention to present. Please click here to register through the University's ePay website. Please note that you will need to select which events you're planning to attend and then proceed all the way through the Add to Basket, Checkout, and Confirmation sections. You will receive a confirmation email once you've completed the registration process. If you have any issues registering, please email us: lel-pgc@ed.ac.uk
Organising committee
The organisers of the 2017 conference are: Mirjam Eiswirth (chair), Wenjia Cai, Jon Carr, Adam Scott Clark, Ruth Corps, Toby Dathan, Victoria Dickson, Andres Karjus, Tian Li, Maddie Long, Christine Lugrine, Ernisa Marzuki, Rachel Moyer, Eva Schnelten, Betül Seda Usta, Miranda Stocks, Tom Wood, and Yifei Yang.